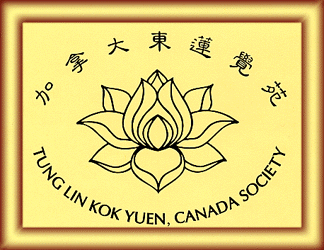 2495 Victoria Drive, Vancouver, B.C. Canada. V5N 4L1
Tel : (604)255-6337 Fax : (604)255-0836
www.buddhistdoor.com email : tlky@axionet.com
Tung Lin Kok Yuen, Canada Society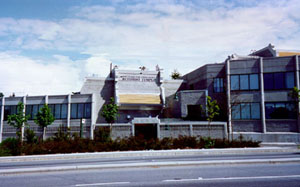 Because of its mild climate and political stability, Vancouver has become the prime choice for many newcomers to settle. The rise in population has caused not only increased needs in educational, medical and social services, but in spiritual health and moral enrichment as well.
Tung Lin Kok Yuen in Vancouver was founded to meet such challenges. It aims to provide an accessible venue for Buddhists and the general public to come together and share the value and meaning of Buddhism.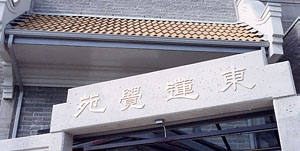 About 65 years ago, the late Sir Robert Ho Tung and Lady Clara Lin-kok devoted their efforts in the promotion of Buddhism and education in Hong Kong. They founded the Hong Kong Tung Lin Kok Yuen temple and school. Now their ideals have been transplanted in Vancouver.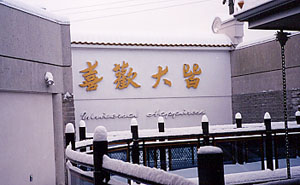 To enlighten and guide the mind to goodness ...

To encourage love for others ...

To attune the mind towards spiritual harmony ...
We serve the general public and Buddhist followers. The temple provides a convenient venue for believers to worship and study the teachings of Buddha. It also seeks to inspire the public towards a more enlightened and harmonious way of living through the spirit of Buddhism.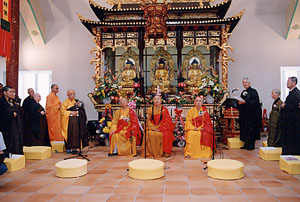 There are two main sections in our temple. One houses a worship hall, blessing hall, meditation hall, memorial hall, library, offices, living quarters, vegetarian kitchen and a multi-purpose hall which can be used for conferences, exhibitions, cultural performances, lectures and seminars. It also houses a retail shop where Buddhist religious objects can be purchased.
Another section houses an ancestral hall, a function hall, small meditation rooms and a garden.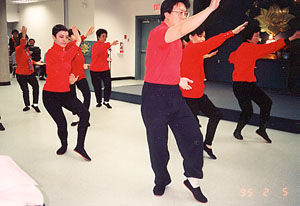 Broadly speaking our activities can be divided into two tyes. First, we perform the traditional Buddhist rites, i.e. morning and evening worships, Sunday worship and the annual religious celebrations of Buddhist festivals. Also, lectures and seminars are regularly held and venerable monks and scholars of all Buddhist denominations are welcome to conduct these events.
Secondly, we actively reach out to the community. A wide variety of educational and cultural activities are planned. Buddhism study groups in Chinese and English, Chinese lessons, ESL classes, Tai-chi lessons, Computer courses are a few of them. As we progress, interest groups such as Chinese painting, calligraphy, Western Painting, Knitting, macramé, vegetarian cooking and flower arrangement will also be organized.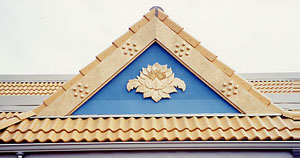 Tung Lin Kok Yuen, Canada society is a non-profit charitable organization registered with the Canadian Government in Ottawa. Our ability to serve the community depends on the spiritual and financial support of people who share the same vision. We need your participation in our community services. Lets join hands to bring peace and harmony to all.
Board of Directors, Tung Lin Kok Yuen, Canada Society
Robert H.N. Ho, President & Permanent Director

Greta Y.M. Ho, Permanent Director

Sick Yin Tak

Kong Shook-Han

L.Y. Bong

Min Kwan Kwaan

Juliet Lau

Benjamin S. Yeung

Kevin Y.K. Ho

Yip Suk Ping

Lee Chack Fan

Raymond Ho