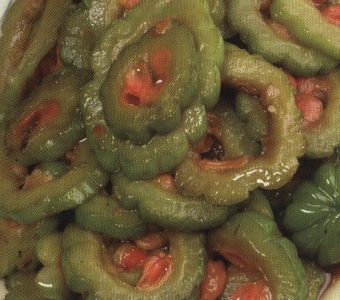 Ingredients
900 grams bitter melon
Seasoning
1 tsp salt
1 tbsp light soy sauce
2 tbsp vegetarian oyster sauce
3 tbsp vegetable oil
3 tbsp water
1 tbsp sugar

Method
Wash bitter melon and cut cross section into rings; do not remove seeds.
Heat a pan and add 3 tbsp of vegetable oil; add melon rings to pan and fry over low heat until soft; dish up.
Remove any oil remaining in pan.
Add remaining seasoning to pan and cook over low heat; return melon rings to pan and cook for one more minute; ready to serve.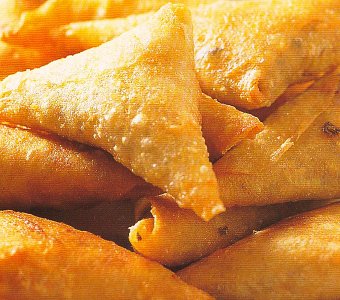 Ingredients
150 grams spring roll wrappers
6 dried shiitake mushrooms (soaked)
1 bamboo shoot
½ carrot
1 celery stick
2 woodear fungus
75 grams golden mushrooms

Seasoning
2 tbsp vegetable oil
3 tbsp curry powder
½ tsp salt
½ tsp sugar
½ cup water
½ tbsp cornstarch water

Method
Remove stems of shiitake mushrooms; chop all ingredients finely.
Heat vegetable oil in pan and stir-fry all chopped ingredients; add seasonings and mix well, then thicken with cornstarch water; dish up and allow to cool.
Trim each spring roll wrapper into 3 wide equal pieces; trim edges and prepare some batter for sealing.
Place a little fried filling on wrapper; fold tightly into triangular shape; seal opening with batter; deep fry in hot oil until crispy and golden brown; remove from oil and drain excess oil. Ready to serve.