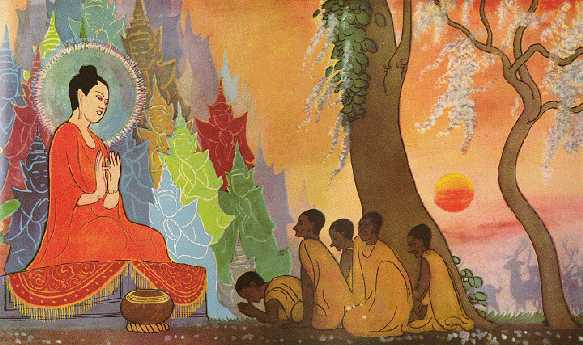 14. THE BUDDHA PREACHING THE SERMON "THE WHEEL OF LAW" TO THE "BAND OF FIVE DISCIPLES"
---
Soon after the birth of the Future Buddha, eight Brahmin fortune-tellers, observed the marks and characteristics of the Future Buddha's person. Five of these Brahmins interpreted that prince Siddhattha would unquestionably become a Buddha and with that belief, had already become ascetics. When Siddhattha retired from the world, they attended to his personal needs. Then seeing that the Future Buddha had given up extreme asceticism and gone back to the usual way of taking ordinary material food, they doubted if he would ever become a Buddha, and deserted him. Then they went and lived in the Deer Park at Isipatana near Benares.
The Blessed One, having attained the Supreme Wisdom, began his life as the Great Teacher. He first thought of the persons whom he should first aid with his teaching, and saw that these five ascetics had developed mature intellect. He therefore went to the Deer Park at Isipatana near Benares, 18 yojanqs (1 yojanq = about 8 miles) away from the Bodhi tree and preached his first sermon to this "Band of Five Disciples" before sunset on the full moon day of Wazo (June-July). Kondafifia was established in the first noble stage of the Aryan Path, along with eighteen crores of higher and lower gods.
---