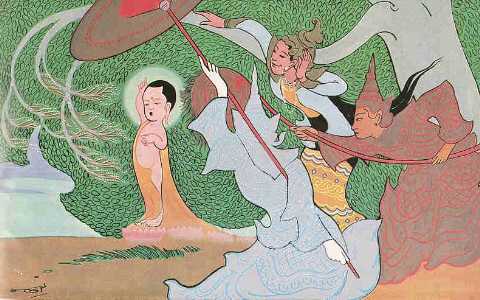 3. BIRTH OF THE FUTURE BUDDHA IN THE LUMBINI GROVE
---
Brahmin monks were asked to interpret the dream, and they told Suddhodana that a son will be born to become either a great monarch or an enlightened Buddha.

Mahamaya carried the future Buddha for ten lunar months. On the full-moon day of May, on the way back to her parents in Devadaha, she stopped over at Lumbini Park. As she rested underneath a sal tree, her baby boy was born. The future Buddha was give the name Siddhartha, meaning "wish-fulfilled".

On the seventh day after his birth, his mother died and Siddhartha was brought up by his aunt Prajapti Gotami.
---