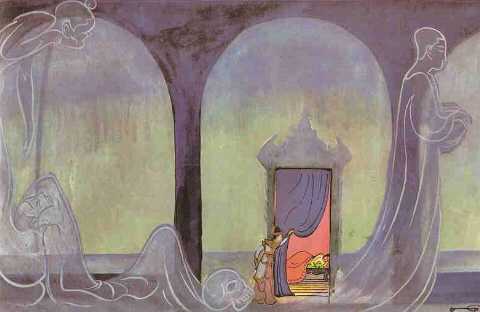 5. JUST BEFORE HIS GREAT RENUNCIATION, THE FUTURE BUDDHA
WENT TO THE CHAMBER OF PRINCESS YASODHARA TO SEE HIS SON
---
When he was 29, Siddhartha left the palace and visited the city. He encountered an aged man who had long past the prime of life. Siddhartha asked his charioteer Channa what happened to this man, and was told that the man was simply old and all people will eventually reach old age.

Another day, he met a sick man and got a similar explanation from Channa that everyone is subject to sickness as well. On a third occasion, he saw a dead man, and again, Channa told him that death is inevitable for all living things. Siddhartha was greatly perturbed by all these forms of misery and became absorbed in thought.

Finally, one day he saw a monk and Channa told the Prince that he had been wandering in peace and happiness. Siddhartha was happy to hear about it, and at this moment, he heard that his son was just born. However, Siddhartha decided to make what is known as the Great Renunciation: to give up his luxurious life and become a wandering monk. He ordered Channa to saddle his horse and walked to the chamber of Yasodhara to see his new born child before he left the palace.
---