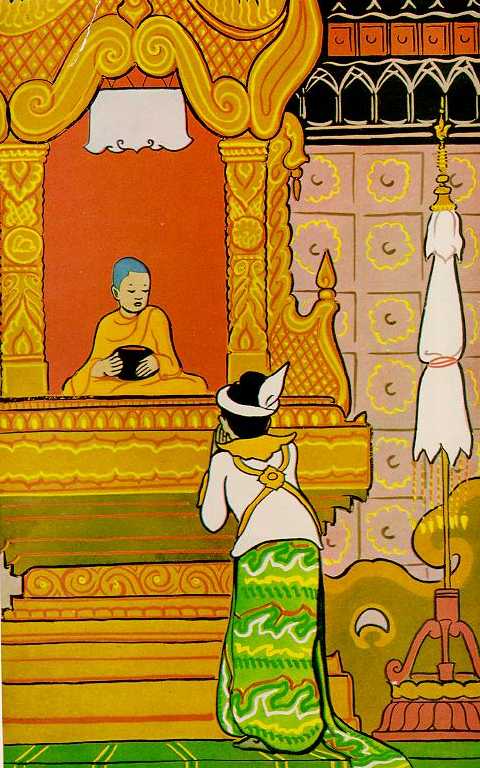 54. KING ASOKA OFFERING MEAL TO YOUNG NOVICE NIGRODHA WHO SAT UPON THE THRONE
---
King Asoka regularly fed the Brahmin priests, in accordance with the custom of the royal household, before his conversion to Buddhism. But he was not pleased with their demeanour at meal-time, as they were neither clean nor calm. The King thought to himself, "Charity on such a lavish scale should be given in proper quarters". Later, one day he saw a serene-looking young novice, quietly walking along the street with restrained senses.
The King was so impressed with the deportment that the novice was invited to the palace at once and requested to occupy a suitable seat ; and the novice went up the throne and sat on it. The King then served him with an excellent meal and asked him to give an exposition of the Doctrine which his Teacher used to preach. The young novice Nigrodha delivered an instructive discourse on the following stanza of the Dhammapada:-
"Heedfulness is the path to Deathlessness. Heedlessness is the path to death. The heedful do not die, the heedless are like unto the dead".
The word of the Buddha appealed to him and he became a Buddhist and staunch supporter of the religion.
---