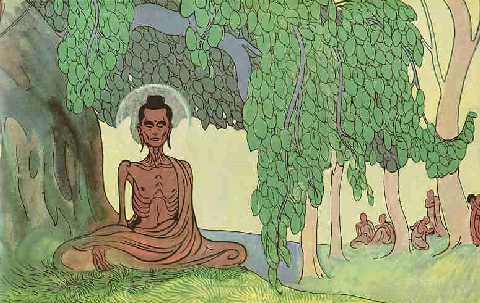 9. THE FUTURE BUDDHA MADE THE GREAT STRUGGLE AND HIS BODY BECAME EMACIATED
---
Leaving Rajagaha, Siddhartha went on to look for instructors. He found two famous Brahmin teachers, called Alara Kalarma and Uddaka Ramaputta who taught him the methods of meditation and achieve the so-called mystical states of "sphere of no-thing" and "sphere of neither-perception-nor-nonperception". Siddhartha quickly mastered them but was not satisfied, and continued his search for the truth.
Siddhartha arrived at a village called Senanigama, near the Uruvela grove. Here for six years, with other companions of ascetics, he practiced the Great Struggle with various severe austerities and extreme self-mortifications, which were beyond human endurance. Because of the lack of nourishment, his body was reduced to bone and skin and became so weak that he fainted once.
He realized that such mortifications would not lead him to his goal of enlightenment and began to change his way of life.
---