The Dhammapada is very well known in many Theravada Buddhist countries. It is a collection of over four hundred verses of basic Buddhist teachings. I have been recently reading it and find so much is helpful and relevant to my Zen Buddhist Practice, even though it is not traditional in the zen school. Here are two verses (from the Eknath Easwaran translation) -
If you meditate earnestly,
pure in mind and kind in deeds,
leading a disciplined life
in harmony with the Dharma
you will grow in glory.

If you meditate earnestly,
through spiritual disciplines
you can make an island for yourself
that no flood can overwhelm.

I would like to write about my experience of Buddhist practice. Not because, my story is important in itself, but bccause it reflects what many in North America experience.
When I started Buddhist practice using the way of Zen meditation I was very confused on what to do. My home country was not Buddhist and I had no background in Buddhist ideas or methods. I found my mind was in turmoil with thoughts and emotions. Words I read from Buddhist books did not mean anything to me. I had no real sense of what 'delusion', 'dukha', 'greed', etc. were. However, during meditation I came to see my mind for the first time, to know myself by actally observing myself, rather than just having ideas about myself. I came to see that I had many ideas and beliefs, about myself and how I related and interacted with my surroundings. Yet my observable experience of myself was quite different.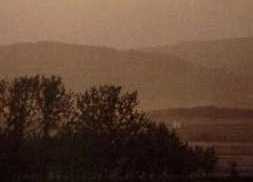 By observing my mind I slowly came to see I would get 'hot' or bothered by things. These could be from what was happening or from memories. Sometimes I would feel I did not want to be part of what was happening or it would irritate me. Sometimes memories would well up and I would start thinking about them, reliving that or holding an internal discussion about them.
By observing my mind I slowly came to see that at times I would be content with things as they occurred. There was a certain peace. Not the peace of being internally quiet and a little 'out of touch'; but a willingness to be present and involved, yet not bothered. Slowly the insight developed that troubled or vexed times were when 'I' solidified. This is when I 'dug' in on what I wanted, or when I was struck in an emotion and could not respond well. This is when I became 'hot' and bothered.
The Buddhist teaching of attachment started to become clearer to me. I discovered that when attached then a solidified self arises. Or perhaps it is when I solidify that attachments occur. In fact, attachment is to stagnate the self, to stagnate is to become attached. At other times there is another self of myself. This self moves and flows with what is occurring. These times had no attachment, I did not fixate in ideas or wants, and could work with the situation smoothly. I realized that emotions are not a 'problem' in themselves, When I first heard of (Skt.) klesha, meaning 'trouble, defilement, passion' with passion including many emotions, I thought that all these emotions were to be quietened or stopped. But this just leads to a deadened person. Kleshas, as I have read, are properties that dull the mind or lead to unwholesome (Skt, Akushala) actions that cause (Skt.) Dukha. Dukha is often translated as suffering.
For some schools of Buddhism, kleshas are removed by applying an antidote. Generosity for greed, kindness for hate, insight for delusion, etc. In Zen, the dissolution of the solidified self is to be free of the kleshas. However. zen practisioners know that this cannot be done unceasingly, and so the antidotal practices are needed at these times.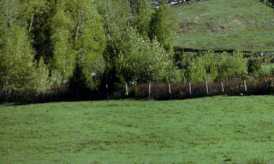 When there is no attachment with the emotion, it passes, and a solidified self does not appear. When there is no solidified self there is space for appropriate emotions to arise. When there is no attachment there is no time, to justify, own or hold on to an emotion. For example, if I am dwelling in an inner anger perhaps arising from a memory, then my mind is clouded, and there is no room to respond to where I am. It is the holding on to an emotion or thought pattern that is the same thing as a solidified self forming. This is also 'blind passion' where the heart/mind is clouded and confused. This was a gateway for me to start becoming liberated. It was not to suppress or deny my emotions, yet not to hold on and over-indulge in them. The same was for thinking. Not to stop thinking but not to start thinking about thoughts. As Lin Chi, an early Zen master said, 'Do not put a head on top of the one you have'. Practising this way led towards a new sense of myself. It was not a self that I could define. There seems to be no set idea of who I am. However, I certainly am myself. But this self is, more and more, found in identifying with where I am, who I am with. It is found, more and more, in naturally responding, becoming freer of a fixed, solid self. Paradoxically, with the lessening of a set idea of myself there is a developing firmess or certainty in manifesting myself. A willingness to be engaged and vital. I am willing to trust myself, coming from somewhere I know not where.
The words of the Dhammapada come alive when we practise Buddhism, when we make it our reality, and not just an understanding.
I have written a personal account in the hope that it may make clearer the way of practice. At first we may read and gain understanding of the Buddhist teachings. Yet there is the analogy that to read a dinner menu is not to really know what the food is like. It is necessary to taste it, to directly know for ourselves. To be a Buddhist is to practice Buddhism, to make it our reality. Having some glimpse of these verses also makes me aware of how endless practice is, of how realization and development become deeper and fuller, and practice simply practises.
From craving arises sorrow,
from craving arises fear,
To them who are free from craving,
there is no sorrow
Whence fear ?