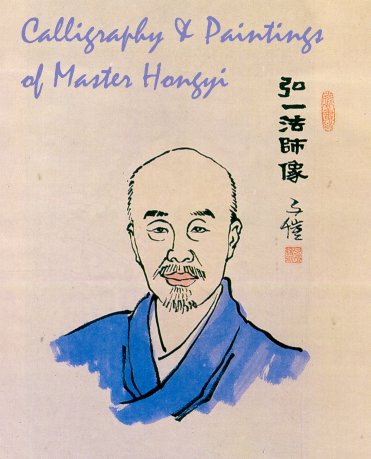 In this issue, we would like to present a small collection of calligraphy and paintings by Master Hongyi.
The original name of Hongyi is Li Shutong. He was born in 1879 and became a monk at the age of 39. He died at the age of 63 in 1942.
Li Shutong came from a wealthy family in the northern city of Tiantsin in China. He was only 5 years old when his father passed away. He was brought up by his half brother who was 12 years his senior.
His mother passed away when he was 26 years old. He then went to Japan to study arts and music. While in Japan, he organized a drama group, which later on moved back to China. Their performance marked the beginning of modern drama in China. Upon return to China, he worked for seven years as a music and arts teacher in the First Normal University of Zhejiang Province at Hangzhou. Li was the first artist in China to compose a chorus and nearly all of the first generation music teachers in China were his students. Li was also a famous calligrapher at that time.
In 1918, when Li was 39 years old, he became a monk in the Hangzhou Hupao Temple under the Buddhist Master Liaowu and thus became Master Honhyi. Since then, he gave up all his pursuit in artistic creation other than calligraphy and painting related to buddhism.
In 1942, at the age of 63, he passed away in the Quanzhou Senior Home in Fujian Province.