ABOUT AJAHN BRAHM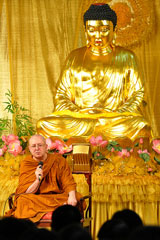 Ajahn Brahmavamso Mahathera (lovingly known to most as Ajahn Brahm) was born Peter Betts in London, United Kingdom in August 7, 1951. He came from a working-class background, and won a scholarship to study Theoretical Physics at Cambridge University in the late 1960s. After graduating from Cambridge he taught in high school for one year before travelling to Thailand to become a monk and train with the Venerable Ajahn Chah Bodhinyana Mahathera.
Whilst still in his years as a junior monk, he was asked to undertake the compilation of an English-language guide to the Buddhist monastic code - the Vinaya - which later became the basis for monastic discipline in many Theravadan monasteries in Western countries.
Coming to Australia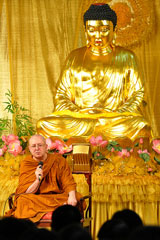 The then Venerable Brahm was invited to Perth, Australia by the Buddhist Society of Western Australia to assist Ajahn Jagaro in teaching duties. Initially they both lived in an old house in the suburb of North Perth, but in late 1983 purchased 97 acres (393,000 square metres) of rural and forested land in the hills of Serpentine south of Perth. The land was to become Bodhinyana Monastery (named after their teacher, Ajahn Chah Bodhinyana). Bodhinyana was to become the first dedicated Buddhist monastery in the Southern Hemisphere and is today the largest community of Theravadan Buddhist monks in Australia.
Initially there were no buildings on the land, and as there were only a few Buddhists in Perth at this time, and little funding, the monks themselves began building to save money. So it was that Ajahn Brahm learnt plumbing and brick-laying and built many of the current buildings there himself.