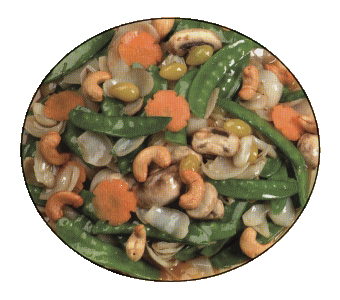 Ingredients
1 pack Fresh lily
50 grams Snow pea
1 pack Button mushroom
200 grams Gingko
100 grams Cashew nut
3 slices Ginger
A few slices Carrot - for decoration

Sauce
1 tbsp Vegetarian oyster sauce
½ tsp Salt
½ tsp Sugar
A little Light soy sauce
A little Sesame oil
Method
Remove base of fresh lily, trim snow peas and wash both vegetables. Rinse mushrooms, cut in half and drain well. Shell gingko, and clean cashew nuts with a dry cloth.
Wash ginger and carrots, and slice them.
Heat a pan and add 4 tbsp of oil. Add cashew nuts to the cold oil, and fry in medium low heat until golden in colour. Remove cashew nuts and fry gingko in oil briefly.
Remove most oil, leaving 1 tbsp in pan. Add ginger and sauté, then add mushrooms, carrots and snow peas; sauté the vegetables a while; add 3 tbsp of water, then add gingko and fresh lily.
Stir in sauce and toss all ingredients well together. Transfer to dish, spread cashew nuts on top and serve.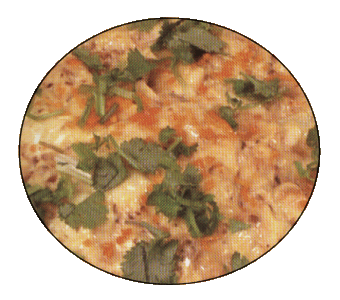 Ingredients
8 Fresh bean curd sheets
2 tbsp Dry mushroom, diced
2 tbsp Pickled Chinese radish, diced
1 tbsp Ginger, minced
1 tbsp Carrot, diced
A little Orange zest, grated
A little Cilantro

Seasoning and Sauce
½ tsp Salt
1 tsp Sugar
½ tbsp Oil
A little Sesame oil
A little Light soy sauce
A little White pepper powder

Method
Rinse bean curd sheets and chop into small pieces. Add salt, sugar, oil and mix well.
Soak dry mushrooms in water until soft; dice them. Wash preserved Chinese radish thoroughly and dice them.
Peel and mince ginger; peel and dice carrots; finely chop orange zest.
Mix all ingredients in a shallow bowl. Steam over boiling water for 20 minutes. Remove bowl, spread cilantro, sesame oil, soy sauce and pepper powder on top and serve.