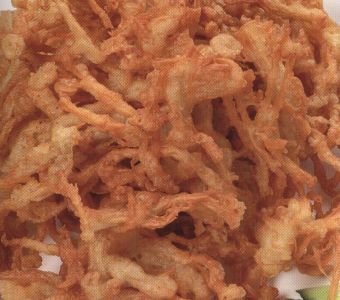 Ingredients
230 grams golden mushrooms
2 tbsp all purpose flour
Seasoning
1½ tsp salt
Method
Cut away about 2.5 cm of tail part of mushrooms, rinse and drain well.
Gradually add water (about 1 cup) to flour and salt until smooth. The mixture should not be too thick or too watery.
Heat enough oil in pan for deep frying.
Blend mushrooms with flour mixture. Use chopsticks to pick up mushrooms into hot oil, a few at a time. Fry until golden brown and crispy. Remove from oil and drain excess oil. Ready to be served.


Ingredients
900 grams green beans
1½ tbsp preserved black olive
6 - 8 button mushrooms
½ tbsp mashed ginger
A little shredded carrot
Seasoning
1 tsp salt
1 tsp sugar
1 tbsp vegetable oil
Method
Rinse green beans and mushrooms.
Heat a pan and add 4 tbsp of oil. Add green beans and saute well until soft. Remove beans from pan and drain excess oil.
Add ginger and preserved black olive to pan and sauté. Add mushrooms and shredded carrots and stir well until done.
Add green beans and seasonings, and stir well. Dish up and ready to be served.